Pedal power: America's Cup and R2AK advance cycling sailors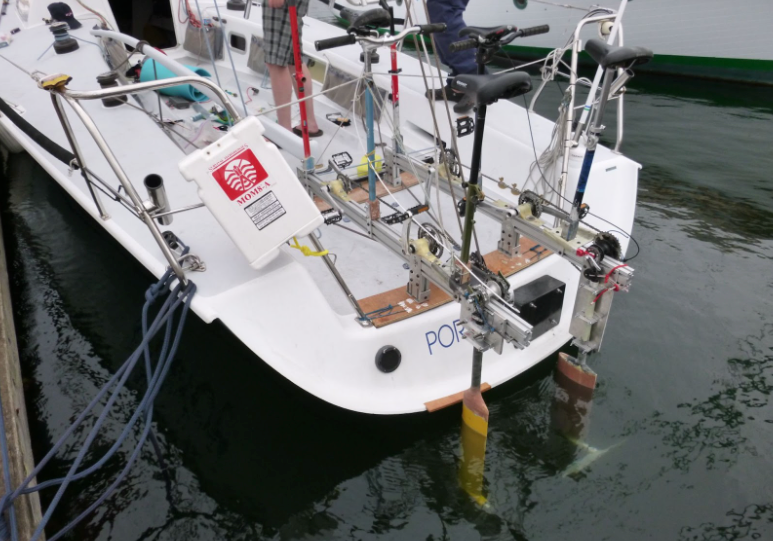 The next America's Cup international sailing race will be held in a yet-to-be-announced venue in 2024. Over the past decade, the match race vessels drastically evolved from monohulls to catamarans and now monohulls with wingsails and hydrofoils. The event is both innovative and for some, unrecognizable from its previous iterations.

In the Pacific Northwest, the Race to Alaska (R2AK) is also innovative but possibly the antithesis of the America's Cup in attitude, priorities and protocols. However, competitors in both races share a common interest in bringing elements of cycling to their vessels.

R2AK's minimalist approach requires that boats not have an engine to enter. The race itself is self-supported over two stages from Port Townsend, Wash. to Ketchikan, Alaska via the Inside Passage. Since its inaugural race in 2015, pedal drives emerged as a favorite alternative form of propulsion among many sailboats entering the race.

These pedal drives are added off the stern with single, double or quadruple riding stations. Team Skiff Foundation Jungle Kitty, pictured right and above, designed their own quad pedal drive for the 2016 race when the team of 8 powered through to a second place finish. Other entries, such as Team Shut Up and Drive in 2019, specifically sought crew members with cycling experience to power the pedal drive in light wind.

In November, the release of the dense 37th America's Cup protocol outlined where the high-profile, high-priced yacht race will be heading next. Several media analysts pointed out that "cyclors," or using bicycle power instead of upper body strength to power the boat's hydraulic systems, may be permitted in the next edition.

Emirates Team New Zealand first pioneered the use of "cyclors" during the 35th America's Cup in 2017, two years after pedal drives debuted at R2AK. Yachting World noted that in addition to providing the prerequisite power needed to control the wingmast and daggerboard rake, the "cyclors" also kept their hands free and allowed them to multitask.

If any teams choose to use the method, which was banned in the 36th America's Cup, the bike-inspired pedal winches may evolve even further. The return of R2AK in 2022 after a two year, pandemic-driven hiatus, may also yield some new pedal power innovations, although in a more DIY-style.

From the high tech to the eccentric, there's a promising future for these cycling sailors.