When safety boats go electric, small boaters benefit from the silence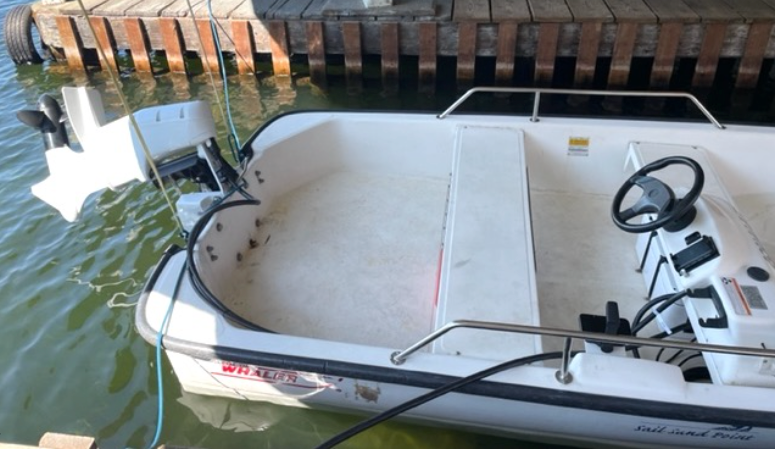 Over the summer, someone walking by Lake Washington, Bellingham Bay or other sheltered waters throughout Western Washington may have seen this idyllic sight: a smattering of small sailboats — some going straight, some not so much — accompanied by a small powerboat carrying a coach responsible for instruction and safety.

Essential for small boating programs, acquiring and maintaining these safety boats is expensive, even when purchased used. They are workhorses, towing boats, transporting staff and spending hours in a marine environment.

These safety boats may be some of the easiest vessels to electrify. Yet until recently, cost and concerns about longevity, of both the engine and the manufacturer, slowed adoption.

Two of Western Washington's community boating centers now count electric outboards among their fleets. And both found huge benefits from one thing they don't provide: loud noise.

"For a little kid, nervous in their first Opti capsize, being able to de-escalate the rescue in a quiet boat is really positive."

Both nonprofit organizations use inflatable or rigid powerboats with outboard motors to teach classes and keep participants safe. From sails flapping to waves slapping a swimmer or nearby boat, loud noises can make moments on the water feel more intense, scarier and less safe. Noise also impacts communication.

Here's what the executive directors at Bellingham's Community Boating Center and Seattle's Sail Sand Point learned from adopting electric outboards:

Electric outboards in Community Boating Center's fleet:
3 HP equivalent Torqeedo 1103 (refurbished) on an inflatable soft bottom rib that has transom mounted wheels. Approx. cost $2800 with a spare battery.
10 HP equivalent Torqeedo Cruise 6.0 on one of the smallest Highfield Ultralite aluminum hulled RIBs. Approx. cost $15,000 for the entire setup ($9,000 for motor, battery and cables plus another $6,000 for the RIB)

On the experience so far:

"Maybe one of the most fun boats I've ever driven, blasting along silently is amazing. The negative was that the first motor had a factory defect and didn't work, they replaced it but it cost us a lot of time out of service in our busy season.

Both products have some "cheap" design qualities, like vulnerable plastic parts that break, the prop shatters if you touch anything with it, and of course, they are expensive to replace."

On securing the funds:

"We were awarded a grant from the Bonnell Cove Foundation for each of these boats, one per year for the last two years. These grants were both $5K, this covered the first boat, the second boat was partially funded by a private donor."

Rust added that Torqueedo also provided a 30% discount to the nonprofit.

On the staff getting used to them:

"There is something to get used to about silent propulsion, you don't have that auditory feedback with power, it's happened to all of us that we get confused about if the throttle is engaged or not. And the torque is impressive so it's a bit scary training new staff if they aren't familiar with the motorcycle-style throttle."

One final thought:

"We can lead paddling groups without crushing the joy of paddling silently though glassy water. These boats offer an improved sense of place and connection with the sea for everyone in or around them! Not to mention the commitment they represent to sustainability and marine stewardship."

Rust said they'd like to add a few more 3 HP equivalent electric motors for their J24 keelboats. Community Boating Center has two gas-powered safety boats still in operation but would like to be fully electric as soon as possible.

Seth Muir, Executive Director, Sail Sand Point

Electric outboards in Sail Sand Point's fleet:

50 HP equivalent Pure Outboard from Pure Watercraft on a Boston Whaler 13 Sport. Approx. cost $16,500

On the experience so far:

"It's a totally quiet, no emission, electric outboard that replaces a 40 HP gas outboard…The battery pack has plenty of range and battery life for our application, it charges overnight, and it is roughly the same size as the same amount of fuel in a tank; meaning the boat has the same trim as it did before. We're thrilled to be introducing these into our fleet."

Muir said that they liked Seattle-based Pure Watercraft's mission to get "loud, dirty, fuel burning and oil leaking engines out of the system." He cited the fact that GM is backing the company as reducing the risk Pure Watercraft would shut down and be unable to support their product long term, which has been an issue in the electric bike world.

On securing the funds:

"A comparable Honda 40 costs around $9k after taxes. But, with gas, that becomes 16.5k– fast."

Muir said Sail Sand Point raised about $10,000 through local grants. The remainder came from Sail Sand Point's annual budget which had accounted for a gas replacement.

On the staff getting used to them:

"All positive. The biggest surprise was the benefit of a quiet engine. Coaches can literally coach without yelling, a feature which is also nice in a rescue situation since it allows the staff to communicate more easily, and with less agitating engine noise. For a little kid, nervous in their first Opti capsize, being able to de-escalate the rescue in a quiet boat is really positive."

One final thought:

"We went with that as it was most similar to the Honda 40s we've used. It fit the boats we had, and had the torque and range we need, and we liked the company, their ethics and their product."

Muir said that after testing the Pure Outboard this season, they will be looking to fundraise for more if they determine its a "win."

---

This article is funded by a grant from the Northwest Marine Trade Association's 2022 Grow Boating program. It is part of a special series from Future Tides covering the role of technology and innovation in boater education and safety.