After mishap, NOAA completes buoyancy engine tests for underwater glider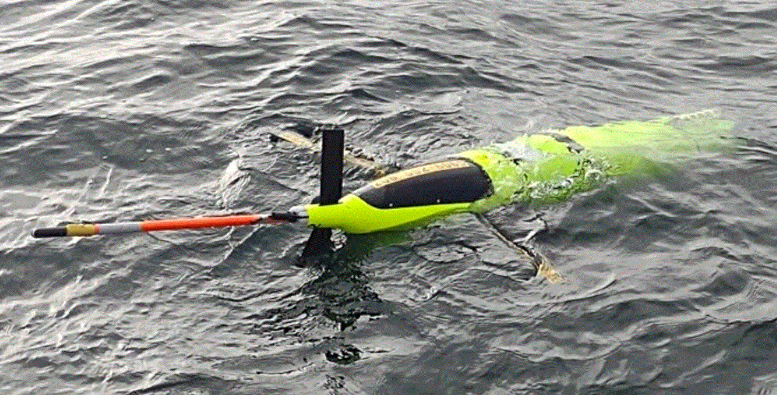 NOAA's Pacific Marine Environmental Lab (PMEL) concluded an underwater glider mission in a deep-water "test bed" off Golden Gardens park in Seattle. The engineering-focused mission tested a new buoyancy engine, which lets the glider move up and down, and a new sensor.

The PMEL team created a virtual mooring on Puget Sound and over the course of a few weeks, the glider tried to stay near that point.

"Everything went great!" said Cabot Zucker, a NOAA Corps officer assigned to PMEL.

This particular glider will next be deployed with two or three others in Nome, Alaska. While there are many groups utilizing underwater gliders, Zucker's team is focused on the hardware itself, designing and testing new components and sensors.

The lab spent the last two years developing this new engine so that the gliders can operate in a wider range of water densities. The design is for collecting data in brackish waters, particularly those in Alaska and the Arctic.

Zucker said their work is in preparation for future studies: "Where is there a science need? Where do we need to get data?"

The underwater gliders are complex and expensive pieces of equipment. NOAA has used underwater gliders for more than two decades and they continue to evolve. Like many other research tools, they integrate improvements in technology.

Ahead of the recent mission, Zucker reached out to local boating organizations to alert boaters about the glider's presence. He asked that boaters not touch the glider if observed on the surface.

"It does look crippled and helpless," Zucker said.

But when it surfaces, it is actually transmitting data via satellite. The underwater gliders are driving themselves but monitored by a remote pilot.

The lab first attempted this mission in October but less than 24-hours into the mission, a well-meaning sailboat tried to retrieve the helpless-looking glider. In the process, some equipment broke and the remote pilot lost contact. Eventually, the glider was retrieved from a beach but it took several months to complete repairs.

Zucker said they learned important lessons from that mission going awry, including explicitly saying "do not touch" on the glider.

Boaters and anyone responsible for maritime safety should be increasingly aware of these vessels. These gliders remain underwater most of the time and appear like a floating buoy when they surface.

Asked about increasing autonomous or uncrewed vessel traffic in the future, Zucker made it clear that responsibility is not diminished by not being aboard the vessel.

"People using these systems need to exercise good judgment and operate them responsibly," he said.