Not there yet: The absence of autonomous ships in Washington waters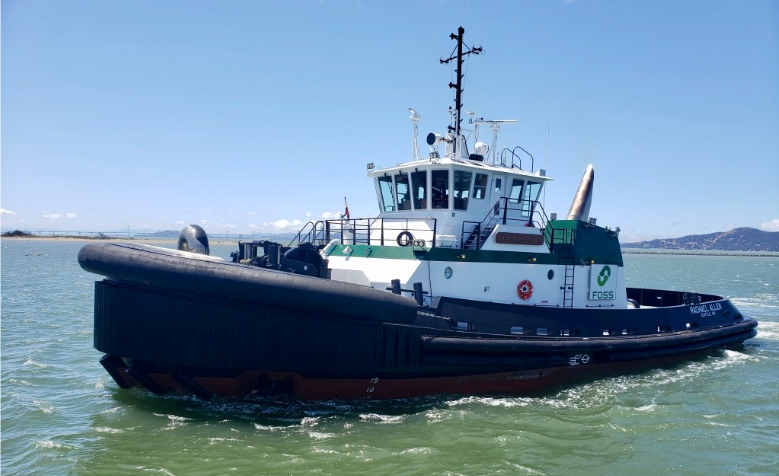 An autonomous tugboat named Nellie Bly circumnavigated Denmark. A Saildrone crossed the eye of a hurricane. MIT's self-driving Roboats are currently navigating Amsterdam's canals.

But what about autonomous ship activity in Pacific Northwest waters? In short, these high tech vessels aren't sailing around here yet.

A representative for the U.S. Coast Guard's 13th District Public Affairs office said that as far as they are aware, there have been "no autonomous vessels off the coast of Washington or Oregon."

Saildrone, an Alameda, Calif.-based maker of unmanned surface vehicles (USVs), is operating its fleet of orange autonomous vessels off the California coast for science-focused missions and offshore testing.

Six saildrones were stationed off the West Coast in 2019 to conduct weather observations as part of a joint project with the University of Washington. The saildrones have also been deployed in Alaska for research purposes. However, a company representative confirmed they don't have any active missions coming into Washington waters.

Autonomous ships are touted as a potential solution to the maritime sector's aging workforce, a vision embraced by the maritime-focused Nippon Foundation for Japanese fleets.

The technology is also envisioned to be safer and reduce maritime accidents, the majority of which are caused by human error. Additionally, as Saildrone has demonstrated, unmanned vessels can go where crewed vessels won't go.

Along with the technology, the legal framework and regulation for autonomous vessels is still in development. The International Maritime Organization (IMO), the UN agency that regulates shipping, completed a regulatory scoping exercise this year. Among the outcomes, the IMO classified four degrees of automation, detailed in the infographic below.

Several years ago, MIT Professor Carlo Ratti told the Associated Press that "boat navigation could be much easier than car navigation." Demonstrations of autonomous ships have accelerated since then.

In 2018, a Finnish car ferry, similar to Washington State's iconic ferries, completed a crossing under full autonomous control one way (IMO Degree Four) and then was operated via remote control on the return trip (IMO Degree Two). It also docked autonomously, using technology developed by Rolls-Royce.

The demonstration made headlines but the technology never entered regular operation. The ferry operator, Finferries, confirmed in an email that it "doesn't have any regular sailings with autonomous technology."

2022 is likely to yield additional autonomous vessel advancements with trial runs scheduled for the Nippon Foundation's consortium and the Mayflower Autonomous Ship's second attempt to cross the Atlantic, among others.

One reality of autonomous vessels navigating the shift from concept to reality, is that the ships themselves may be ready before the autonomous systems. Two examples of this staggered transition are the Norwegian electric container ship Yara Birkeland and Foss Maritime's harbor tug Rachael Allen.

The 260-foot long Yara Birkeland made its maiden voyage in November. It will transport fertilizer between Norwegian ports starting next year. However, Yara Birkeland's autonomous system will require a two-year testing period.

Back on the United States' West Coast, the Rachael Allen was delivered to Foss in June and is the newest tug in the Saltchuck-owned company's fleet. Built by Freeland, Wash.-based Nichols Brothers Boat Builders, the 100-foot harbor tug is based in San Francisco.

In May, Foss Maritime and Sea Machines, the Boston-based company behind Nellie Bly's autonomy system, announced the Rachael Allen would be "the first U.S.-Flag harbor tug to integrate autonomous systems in real-world commercial operations."

Foss is currently installing the Sea Machines SM300 system with a six-to-nine month testing period after installation. The project also involves coordination with the U.S. Coast Guard and American Bureau of Shipping (ABS).

"We are excited about the tools this system brings to our operations and service to our customers, while carefully vetting the use of the system, with regulatory support, as we continue to move toward full operational use of the SM300 on board," a Foss Maritime representative told Future Tides.

Rachael Allen will operate in California and Foss Maritime confirmed it doesn't have any vessels operating with autonomy in the Pacific Northwest.

Although autonomous technologies for maritime applications have advanced recently, it is not yet widespread. Regulation from various maritime authorities will also be crucial for broader adoption.

Many of these examples illuminate the possible applications for different degrees of autonomy on vessels from ferries to tugs to smaller watercraft. It remains to be seen how and when autonomous vessels will make their debut in the Pacific Northwest.

Note: This story was updated with additional details about the 2018 RollsRoyce and Finferries demonstration.