Why they wing foil
Wing foiling brings together a hydrofoil board with an inflatable wing. Fans say it's an accessible alternative to other wind sports.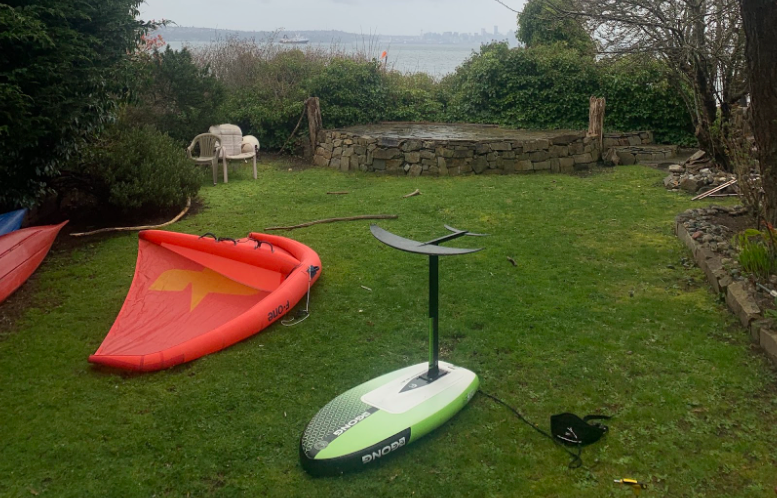 Surfing. Windsurfing. Kite boarding. Each sport grew in popularity following key developments, whether equipment, cost or instruction, that made the sport more accessible. Now, wing foiling is another alternative.

Wing foiling brings together a hydrofoil board with an inflatable wing, refined by an industry that's now made inflatable kites for more than two decades. At the same time, the scales have tipped, taking foil boards from experimental equipment demonstrated by professional surfers to desirable gear used in multiple water sports.

Wing foiling should not be confused with windfoiling, which also uses a foil board but with an attached sail. Called "windsurfing 2.0" by Sailing World, windfoiling is due to debut at the 2024 Paris Olympics.

With wing foiling, the wing has handles to hold onto and is attached via a leash strapped to the rider's arm or lifejacket. The boards come in a variety of sizes with beginners often starting with a larger board that's closer in size to a paddleboard.

With so many water sport options, why are people wing foiling? I asked around and, unsurprisingly, a number of sailors are into it.

Elliot Drake, a Portland, Ore. native who now lives and wing foils in Singapore, explained a couple key reasons wing foiling stands out and feels safer over kite boarding, another water sport he's done for years:

Without a kite and the requisite control lines, it's easier to launch from more places.
There are more options when the wind gets light or dies, a situation where a kite boarder may get stuck.
He now plans to wing foil on visits back to the Pacific Northwest and launch from places, like his mother's Catalina 36 sailboat, that he wouldn't be able to with a kite.

Molly Jackson of Bainbridge Island, Wash., is learning and got up on the foil for the first time while taking lessons in La Ventana, Mexico in December.

She says a major difference from kite boarding, also popular in La Ventana, is that "you hold and trim the wing with your hands instead of using lines and a bar to control the kite."


"Wing foiling allows you to launch and play in places where kite boarding would be a challenge," Jackson said in an email.

"Foiling allows you to go out in much lighter conditions which is a plus for Northwest summers. It also just looked like a blast and so many of my friends were giving it a try."

But not everyone is sticking with wing foiling after a trial period. Cabot Zucker, a NOAA corps officer previously featured in Future Tides, got into it for about a year before deciding he had way too much gear across his various sports.

Originally, he sought out wing foiling for light wind days on Lake Washington but ultimately decided to stick to kite boarding with a foiling board instead.

"I realized though that I could get out in just as light of wind, if not lighter, kite foiling. Part of that is a function of my skill level as a kiter. I am a much better kiter than I am a winger…my skills just weren't there as a winger."

He is still enthusiastic about the sport though, adding that wing foiling is "a really fun sport for swell riding if you are interested in getting into it."

That's what caught the eye of Kris Thompson, a graduate student at the University of Washington, who watched early demos by pros and saw wing foiling "could be the perfect way to surf swell anywhere."

He dabbled in kite boarding first but says the setup time felt longer and it could be "quite sketchy" in some of the Pacific Northwest's variable wind conditions.

"Wing foiling is essentially crossing many aspects of windsurfing and kite boarding together, taking out some of the complexities of both, and then adding a foil under the board to it all," he explained in an email.

In addition to the wing foiling setup being quicker and easier, Thompson says he sees a lower barrier to entry in terms of the cost and learning curve.

He also echoes others who say that foiling is less impactful on joints and muscles. And he finds the gear easier to travel with compared to other wind sports.

"The feeling of being up on the foil is incredible, like skiing powder," said Thompson.

"Overall though, wing foiling ended up filling that gap as something to just enjoy on the water that wasn't based in competition, but more of a surfing vibe."